Which Mode is the Most Popular in NBA 2K23?
NBA 2K23 is a huge game, with lots of different content to be played daily, but it can seem pretty overwhelming for a newcomer. Here are some of the most popular game modes in NBA 2K23:

MyTeam

This is the ultimate single-player fantasy game mode for NBA 2K23. Players are acquired via cards you collect by grinding for them, bidding on them in the auction house, or getting lucky when opening packs. Once you've assembled a half-decent team, you can play 3v3 or 5v5 offline against the AI or online against another player to gain MT 2K23, XP, and rewards, helping you grow your card collection and stay competitive.
1. Getting Started

You'll receive a starter kit immediately after heading into MyTeam. The card pack will reveal three Evolution cards to choose from; the player chosen will act as the star of your team. Evolution cards can be upgraded by completing statistical requirements that are unique to each card.

Another specialized player card is Dynamic Duos. Certain players will receive a boost to their attributes and badges if they're slotted together in the lineup.

Once you've selected your starter team, you'll need to select where you play and the team name. You won't be able to create custom jerseys or logos, but you will have the opportunity to unlock that ability later in the game. After you've finalized your team, you can test them out right away in a three-on-three setting. Whether or not you win or lose, you'll return to the main menu following the game. Head over to the MyTeam tab and select Lineups Management. This is where you can adjust your roster significantly when you acquire new cards.

2. What To Play

1). Domination: Five-on-five games NBA style with your best players against current NBA teams.
2). Clutch Time: Fast-paced five-on-five games with a shortened shot clock.
3). Triple Threat: Three-on-three games with the first team scoring 21 points win.
4). Challenges: Complete specific statistical milestones and game moments to earn rewards.
5). Freestyle: Practice with your team to learn their moves and hone your skills.

3. Rewards

Performing well in any of these game modes will award you experience points that will increase your Season status. Each tier presents a different prize that's used to improve your team. One essential item you'll receive is a token. These bronze stubs are exchanged for cards in the token market. Unwanted or duplicate cards can be bundled in the exchange to swap out for a better card.

Jordan Challenge

Michael Jordan is often regarded as the greatest player in basketball history and famously wore the number 23. So for 2K23, they honored his legacy by giving us 15 of Jordan's most significant moments to relive in-game.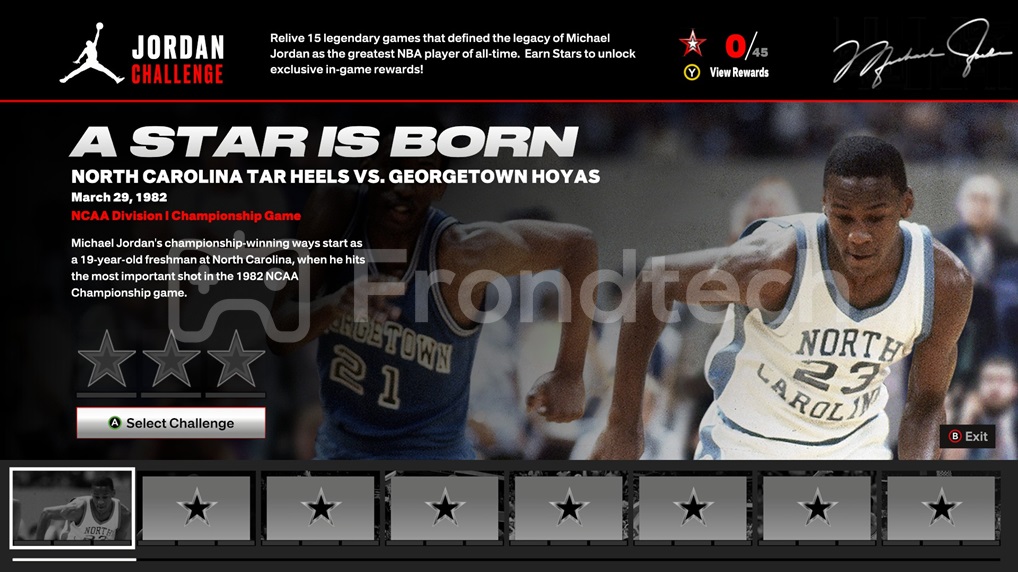 1. NBA 2K23 Jordan Challenge games list

Here are the 15 games that are included in NBA 2K23's Jordan Challenge:

• 1982 NCAA National Championship - UNC vs. Georgetown
• 1984 Team USA Basketball Scrimmage
• 1986 Easter Conference First Round, Game 2 - Chicago Bulls vs. Boston Celtics
• 1988 NBA All-Star Game
• 1989 Eastern Conference First Round, Game 5 - Chicago Bulls vs. Cleveland Cavaliers
• 1990 - Chicago Bulls vs. Atlanta Hawks
• 1990 - Chicago Bulls vs. Cleveland Cavaliers
• 1990 Eastern Conference Finals, Game 3 - Chicago Bulls vs. Detroit Pistons
• 1991 NBA Finals, Game 5 - Chicago Bulls vs. Los Angeles Lakers
• 1992 NBA Finals, Game 1 (AKA "The Shrug" Game) - Chicago Bulls vs. Portland Trailblazers
• 1995 - Chicago Bulls vs. New York Knicks
• 1996 NBA Finals, Game 5 - Chicago Bulls vs. Seattle Supersonics
• 1997 NBA Finals, Game 5 (AKA "The Flu Game") - Chicago Bulls vs. Utah Jazz
• 1997 - Chicago Bulls vs. Los Angeles Lakers (AKA Jordan vs. Kobe)
• 1998 NBA Finals, Game 6 (AKA "The Last Dance" Game) - Chicago Bulls vs. Utah Jazz

2. How to acquire 40 stars in the Jordan Challenge?

Game 1: A star is born

• Win the game
• Score 16 points
• Get nine rebounds

Game 2: Got next

• Win the game
• Score 12 points
• Win by 15 or more points

Game 3: The Arrival

• Win the game
• Score 63 points
• Get 6 assists

Game 4: Star of Stars

• Win the game
• Score 40 points
• Get eight rebounds and three assists

Game 5: The Shot

• Juke Larry Nance
• Correctly aim "The Shot"
• Win the Game

Game 6: Shootout

• Win the game
• Outscore Dominique Wilkins
• Score 40 points and hold Dominique Wilkins to under 20 points

Game 7: 69 points

• Win the game
• Score 69 points
• Shoot 50% or better from the field

Game 8: Bad Boys

• Win the game
• Score 47 points
• Get 10 rebounds & four assists

Game 9: Start of a Dynasty

• Win the game
• Score 30 points and get 10 assists
• Shoot 50% or better from the field and grab four rebounds

Game 10: The Shrug

• Win the game
• Hit six 3-point shots in the first half
• Score 39 points and keep Clyde Drexler under 17 points

Game 11: Double Nickel

• Win the game
• Score 55 points
• Hold John Starks to less than two 3 pointers

Game 12: Fathers Day Victory

• Win the game
• Score 22 points and get nine rebounds
• Get seven assists and win by 12 or more

Game 13: The Flu Game

• Win the game
• Score 38 points
• Get seven rebounds and five assists

Game 14: Pass the Torch

• Win the game
• Score 36 points and hold Kobe Bryant under 20 points
• Win by 10 or more points

Game 15: The Last Dance

• Win the game
• Score 45 points
• Hold Jeff Hornacek to under 15 points

3. Jordan Challenge rewards

You can earn six rewards by completing up to 45 challenges in The Jordan Challenge. They include:

MyCareer rewards

• UNC Jordan jersey
• Jordan calf sleeve
• Jumpman gold necklace

MyTeam rewards

• Jordan coach card
• Jordan 99 OVR free agent card
• '95-'97 Bulls alternate jersey

MyCareer

This offline story mode is single-player and gives you the experience of an NBA career.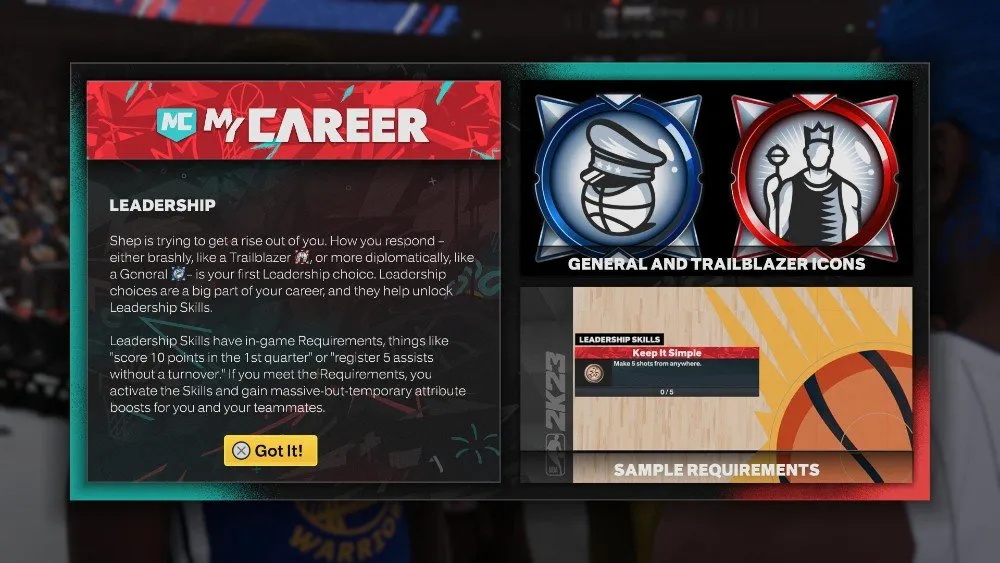 1. What is NBA 2K23 MyCAREER?

NBA 2K23 MyCAREER is a game mode that allows you to create your player. This is essentially the game's campaign mode. In it, you can experience the story of the avatar you created through MyPLAYER, embarking on a journey to become a professional basketball player.

2. NBA 2K23 MyCAREER General and Trailblazer

Throughout critical points in your NBA 2K23 MyCAREER, you'll get some story options that shape your character. These choices can either be General or Trailblazer. The former establishes a foundation, and the latter keeps things simple. These will also give you bonuses in performances for your games.

Players who prefer defensive playstyles will most likely choose General as it gives them a better boost to assist teammates further. In contrast, those who seek to be aggressive will lean towards Trailblazer as it gives them a boost towards scoring points.

3. The City in MyCAREER

You MyCAREER is connected to the City, an open hub where you can explore and do various activities. You'll be given a chance to buy clothes, get tattoos, and upgrade stats for your avatar.

With this, our best game modes list is complete, and we bring it to an end. However, if you feel we missed something on the list, please let us know through the section below or click here.